Employment Opportunity: Field Welder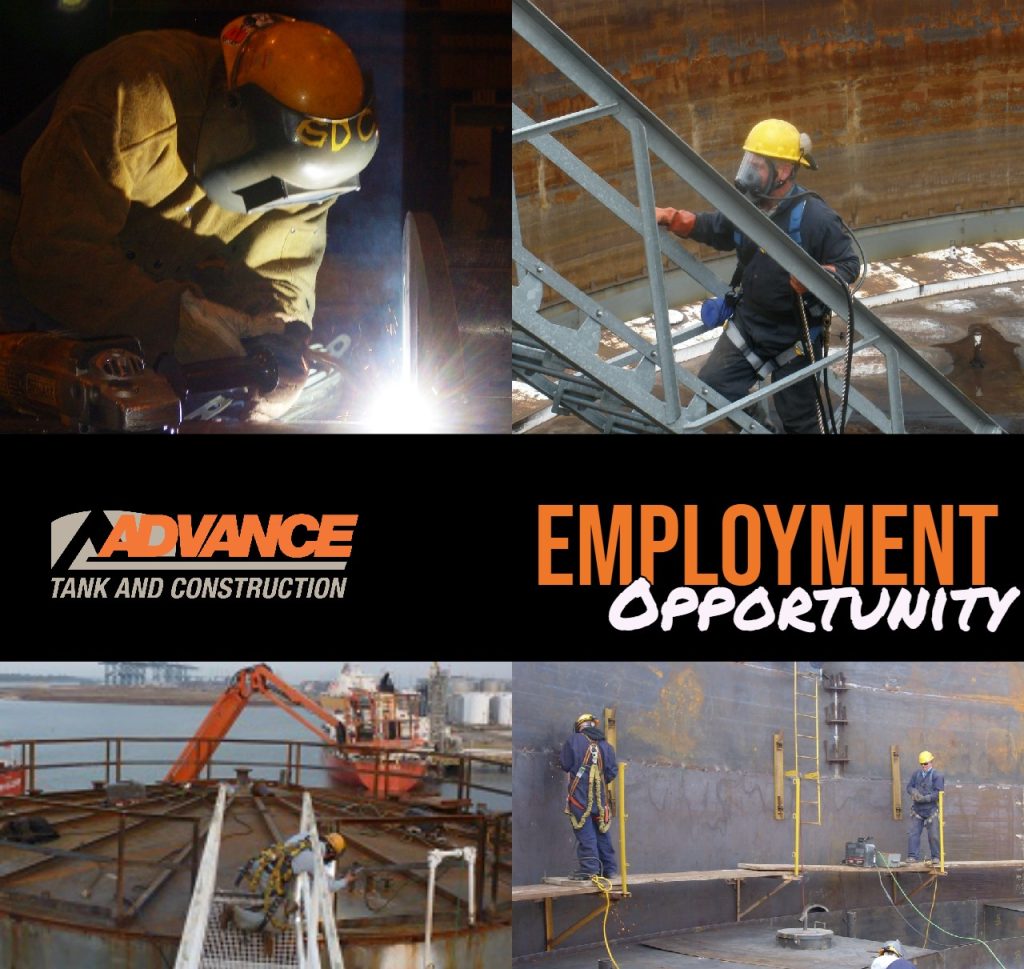 Advance Tank and Construction is a construction company that works throughout the continental United States.  We build large capacity, steel erected, storage products from the ground up.  We are looking for Field Welders for our jobsites in Wyoming, Alabama and Florida. We are interested in those who are experienced, hardworking, and know how to work safely.
PAY RANGE
$28.00 to $32.00 per hour
The pay range is dependent on the person's experience and capabilities. Benefits include: paid vacation, sick leave, 401K, and health & dental insurance. This is an employment at will position.
APPLY
Advance Tank is offering competitive wages, great benefits, and a family-like environment. If you feel your skills & abilities closely match the self-driven personality we are searching for, please send us your resume via email or apply online.
Email: Attention: Recruiting jobs@advancetank.com
QUALIFICATIONS
Must be able to perform all duties safely.
Must pass a weld test per AWS or ASME in the processes than are applying for as well as pass either a bend test or x-ray welding with 7018 in vertical position.
Must have experience in the construction of field erected storage structures and in using the following tools: 4- and 8-pound hammer, fit up bar, grinders, and chipping hammers.
Must be able to pass a post hire physical verifying ability to perform essential functions of job, as well as a substance abuse test whenever required by Advance Tank or its customers.
ESSENTIAL FUNCTIONS, DUTIES & TASKS
Must be able to perform all duties safely;
Must be able to weld with 7018 and downhill using 6010;
Must be able to manually move 100 feet of weld lead (70-100 lbs.);
Must be able to arc gouge;
Must be capable of climbing to heights of 160 feet above ground by vertical ladder and of using tools of the trade at that height;
Must be able to assist in the moving of steel plate: unloading, loading, hanging, aligning, and fitting;
Must be able to drive stakes, fit up vertical, round, roof, and bottom seams as well as perform bottom breakdowns;
Must be able to grind weld seams in preparation for x-ray, chip off weld burs, and do other plate surface cleaning;
OTHER FUNCTIONS, DUTIES & TASKS
Should be capable of wearing and using a respirator, when necessary, ATC will test at that time for ability.
Should be able to read blueprints, do layout, and move scaffolding.
SCHEDULE
The work is scheduled for Monday through Friday, often ten hours a day. However, often the customer dictates the working hours, so may need to work hours prescribed by the customer.
Furthermore, overtime is required in this job.
WORK CONDITIONS
This job requires extensive travel within the United States and will require significant time away from home. You will be on your feet all day, which can include kneeling, bending, and standing. Wearing a hard hat, safety glasses, earplugs and suitable work clothing is necessary. The working conditions at each job site change from clear and open to congested and tight. You will be working outside in all types of weather. You will be expected to be aligned with the Company Work Ethic Document, which is included in your new hire packet.