Employment Opportunity: Shop Pipe Welder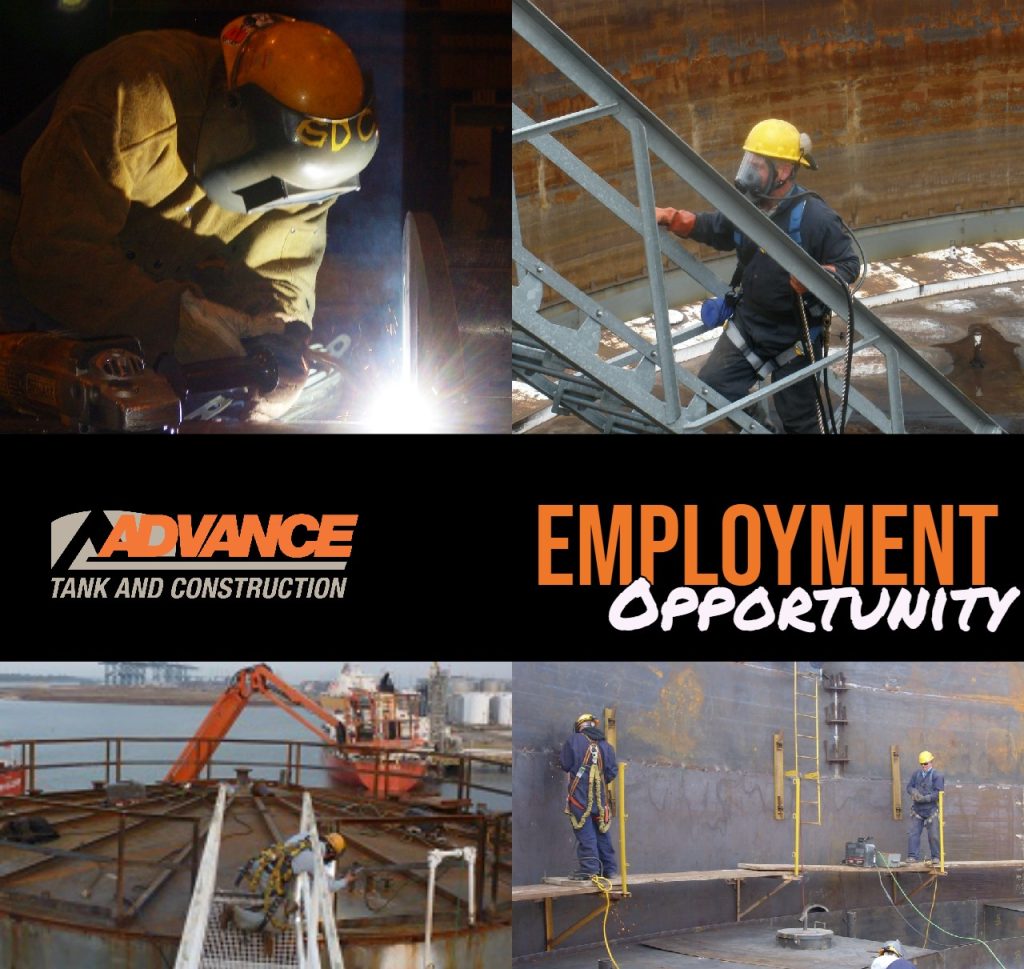 Advance Tank and Construction is a construction company that works throughout the continental United States. We build large capacity, steel erected, storage products from the ground up. We are looking for a Shop Welding person in our Wellington, CO shop. We are interested in those who are experienced, hardworking, and know how to work safely.
PAY RANGE
$22.00 to $35.00 per hour
The pay range is dependent on the person's experience and capabilities. Benefits include: paid vacation, sick leave, 401K, and health & dental insurance. This is an employment at will position.
APPLY
Advance Tank is offering competitive wages, great benefits, and a family-like environment. If you feel your skills & abilities closely match the self-driven personality we are searching for, please send us your resume via email or apply online.
Email: Attention: Recruiting jobs@advancetank.com
QUALIFICATIONS
Must be able to perform all duties safely.
Must pass a weld test per ASME IX in the processes they are applying. Must pass either a bend test or an X-Ray weld test on 2″ Heavy Wall in 6G position SMAW 6010/7018 and GTAW ER70S-6 and understand welding machine components and welding variables and consumables.
Must be able to read and understand ISO's, Layouts and Fit Pipe & Fittings per ISO's.
Must be able to physically move 75 to 100 pounds, routinely.
Must have experience in the use of the following tools: oxygen & acetylene torch, plasma torch, bevel machine, fit-up & hand tools, grinders, chipping hammers, magnetic drills, 4 pound hammer and cutting tools.
Must be able to pass a post hire physical verifying ability to perform essential functions of the job, as well as a drug test.
ESSENTIAL FUNCTIONS, DUTIES & TASKS
Must be able to perform all duties safely.
Must be able to physically move welding lead (approximately 100 pounds) and be able to work and weld out of position and off of ground level.
Must be able to safely move and handle heavy pipe and fittings of different shapes including: loading, unloading, setting, aligning, fitting, assembling and cutting. Movement and handling are done both manually (up to 100 pounds) and with assistance of a crane or other equipment.
Using a grinder must be able to brush and grind weld seams in preparation for radiography, chip or grind welding burrs and scars and perform other plate surface cleaning.
NON-ESSENTIAL FUNCTIONS, DUTIES & TASKS
For consideration of reaching higher welding grade, must be able to pass Exotic Alloy Pipe Tests and 6G position for GTAW, GMAW, FCAW, SMAW.
SCHEDULE
This position works 8 to 10 hours per day, 5 days per week; able to work overtime when necessary. Begin work promptly at designated time.
WORK CONDITIONS
Worker is on feet, kneeling or bending all day and work is done outside in all weather conditions. Worker will be required to wear a hardhat, safety glasses, leather boots and ear plugs at all times – a welding hood and respirator when appropriate.