Employment Opportunity: Tank Construction Manager-Eastern Division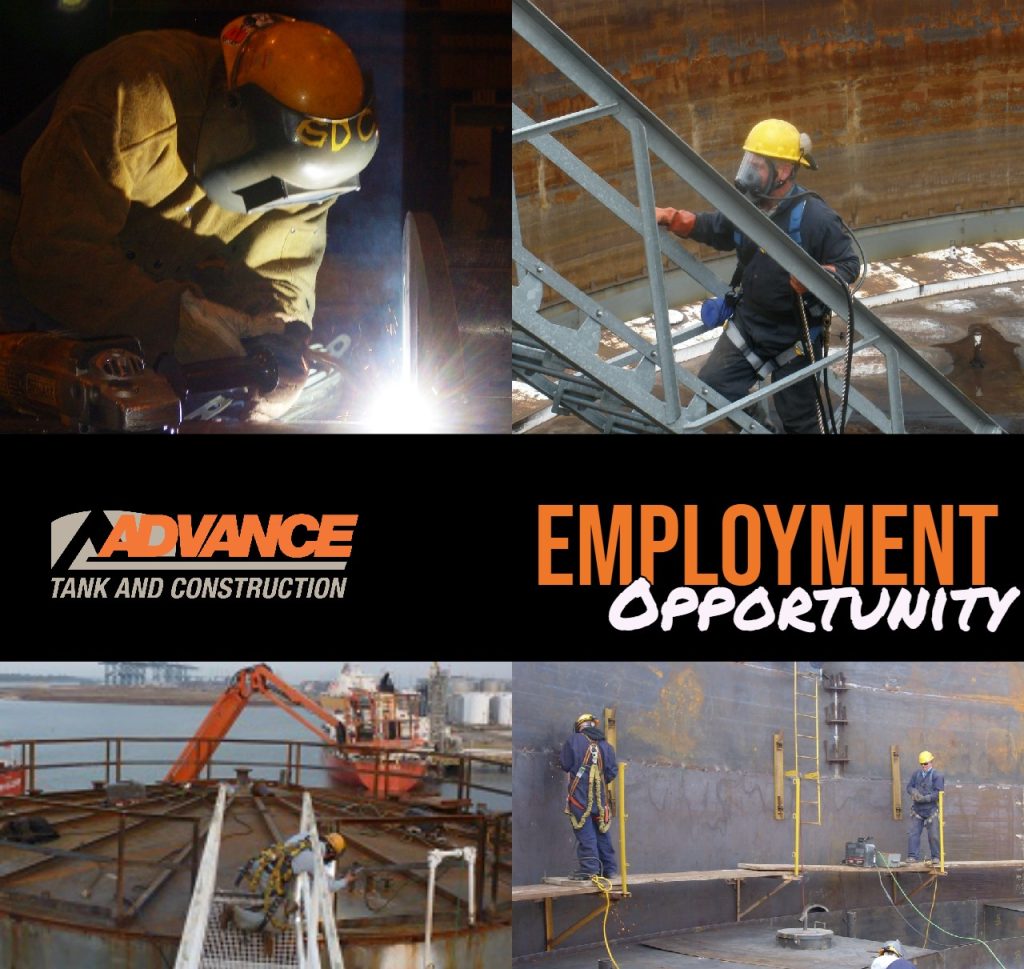 Advance Tank and Construction is a construction company that works throughout the continental United States. We build large capacity, steel erected, storage products from the ground up. We are looking for a Tank Construction Manager for our Eastern Region. We are interested in those who are experienced, hardworking, and know how to work safely.
PAY RANGE
$50.00 to $55.00 per hour
The pay range is dependent on the person's experience and capabilities. Benefits include: paid vacation, sick leave, 401K, and health & dental insurance. This is an employment at will position.
APPLY
Advance Tank is offering competitive wages, great benefits, and a family-like environment. If you feel your skills & abilities closely match the self-driven personality we are searching for, please send us your resume via email or apply online.
Email: Attention: Recruiting jobs@advancetank.com
QUALIFICATIONS
Must be able to perform all duties in a manner that creates a safe environment for all employees
Must have a minimum of 5 years experience constructing API 650, 620, 653 tanks at a supervisory level
Must have experience in all aspects of field tank construction including the equipment used to perform the work, the manpower necessary for the job, time it takes to perform the work and how to safely perform the work.
Ability to train and assemble a team to accomplish a stated goal.
Must have good interpersonal skills, good attitude and ability to write and teach.
Must have good computer skills including the use of Microsoft Office Software.
Must be able to travel regularly and walk around all parts of a tank project, including climbing.
Must be able to obtain a TWIC card, obtain site safety credentials, have a driver's license, pass a background check, and a post offer drug test and physical.
Not required to relocate to a company office
Will be responsible for tank construction in the Eastern United States
50% travel will be required
ESSENTIAL FUNCTIONS, DUTIES & TASKS
Must be able to perform all duties in a manner that creates a safe environment for all employees
Oversee all construction activities of assigned projects.
Review project drawings at approval stage to thoroughly understand the assigned project.
Prepare a construction packet for the Superintendent/Foreman for your projects, including issues concerning safety, quality and the Work Plan, detailing project specifics and code requirements.
Assist in the development of project schedules and man loads with assigned Project Manager, working together to keep project on time and under budget.
Determine equipment needed to build project, and develop a tool list once Superintendent/Foreman has been assigned.
Work with Superintendents/Foremen to ensure the project is built to the Work Plan, and that safety and quality are always adhered to by employees on site by both visiting the job and regularly contacting the Superintendent/Foreman.
Work with Superintendents/Foremen and HR to determine and maintain appropriate staffing on site and to assist in development of field personnel.
At close of project, go to site and perform a final walk through to ensure the project is built to Company quality expectations.
NON-ESSENTIAL FUNCTIONS, DUTIES & TASKS
Manage pay levels of field personnel with Regional Manager for jobs.
Assist estimating in pricing for future work.
Development of field equipment for use by Company.
Assist ATC shops in completion of their duties.
SCHEDULE
Office work is 8:00 a.m. to 4:30 p.m. Monday through Friday. Though hours will vary widely based on job site visits and travel.
WORK CONDITIONS
Will require being at a desk as well as walking around and climbing both in and around a tank foundation construction site in all types of weather. Will require frequent travel to ATC jobsites, offices, and shops.