Advance Tank Strikes Gold at 35th Annual Safety Excellence Awards!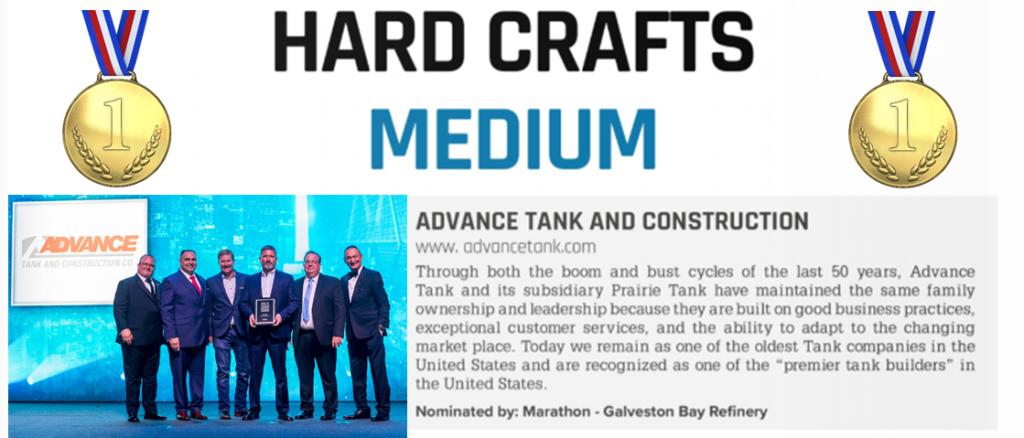 Advance Tank and Construction strikes Gold at the 35th Safety Excellence awards on May 20th, 2022. The award is based on Owner Companies nominating its "Best in Class" Safety Performance contractors to compete for bronze, silver, and gold awards. Advance Tank was the only Tank Company nominated, the only Tank Company that made it to the finals and the only Tank Company to win Gold.
With over 500 nominations competing in 1 of 15 categories, only 53 companies made it to the finals. Advance Tank beat out all others in the Hard Craft-Medium Size category to win Gold.
This annual event boasted it largest attendance ever, with nearly 1600 people at the Gala. Lee Greenwood headlined this year's event with his hit song, "Proud to be an American" to a standing ovation. You could feel the excitement in the room because no company there knew what they won until it was announced that night. Advance Tank is proud to have won gold in the Hard Crafts, Medium size category and appreciate all our employees that got us to this award.  But we must point out Brad DeVore (Gulf Coast Regional Manager), Michael Balluch (Marathon Petroleum Construction Manager) and Jeff Caudill (Corporate Safety Manager) for all their work pushing forward the Advance Tank Safety culture.  In turn, they accepted the award on behalf of Advance Tank .  Thank you to Marathon – Galveston Bay Refinery for nominating Advance Tank for this award and to John Bollum (Enterprise Products HSE Manager), Willy Wells, (Houston Business Rountable Director), and Russell Klinegardner (President and COO of Houston Area Safety Council) for presenting the award to Advance Tank.
This award is based how Advance Tank applies its safety culture and safety program. The men and women that work in our manufacturing plants and our field erection/construction crews are the key to scoring well on this intense multi-week audit and review. We THANK each and every employee at Advance Tank for their dedication to the safe, quality, hard work they perform every day!