Employment Opportunity: Drafting Detailer II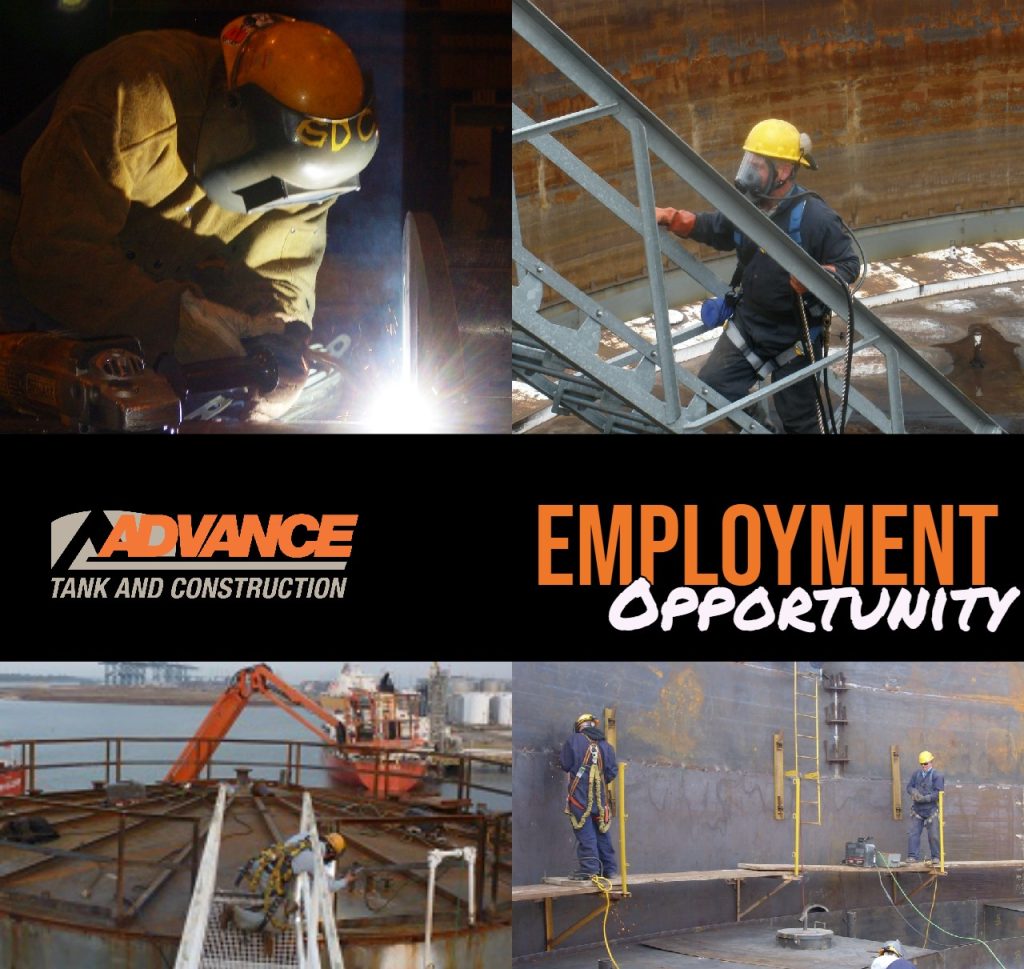 Advance Tank and Construction is a construction company that works throughout the continental United States. We build large capacity, steel erected, storage products from the ground up. We are looking for a Drafting Detailer II. This position can be done remotely. We are interested in those who are experienced, hardworking, and know how to work safely.
PAY RANGE
$27.00 to $32.00 per hour
The pay range is dependent on the person's experience and capabilities. Benefits include: paid vacation, sick leave, 401K, and health & dental insurance. This is an employment at will position.
APPLY
Advance Tank is offering competitive wages, great benefits, and a family-like environment. If you feel your skills & abilities closely match the self-driven personality we are searching for, please send us your resume via email or apply online.
Email: Attention: Recruiting jobs@advancetank.com
REQUIRED QUALIFICATIONS
3+ years working in AutoCAD
5 years minimum drafting experience with welded steel tanks covering API 650 and 620 tanks
Associates degree in Computer Aided Design or equivalent; work experience can be substituted in lieu of degree.
Working knowledge of Microsoft Office applications, especially Excel.
Strong written and verbal communication skills for multi-disciplinary team.
Must have ability to visualize and understand construction processes.
Must have good understanding and ability to apply algebra, geometry, and trigonometry principals.
Must have ability to work on multiple tasks while under a time deadline without getting flustered and with minimal direction from others.
ESSENTIAL FUNCTIONS, DUTIES & TASKS
Must be able to perform all duties in a manner that creates a safe environment for all employees.
Follow Company drafting standard practices to prepare fabrication and erection drawings for all types of contracts including more complex projects with minimal supervision.
Independently create drawings that are accurate and are in compliance with the design, customer specifications, project plans and code/standard requirements.
Create a drawing Bill of Materials as well as prepare submittals to be sent to our customers.
Drive/manage the contract through the drawing/detailing process, including working with the Senior Detailers until the drawings are submitted to the customer.
Maintain a working knowledge of shop and field practices in order to create drawings that meet shop and field capabilities.
Possess a working knowledge of OSHA regulations and building codes and standards that relate to steel tank and vessel construction.
Remain current on the latest CAD software. Maintain a working knowledge of computer hardware and software.
Communicate with outside customers and other ATC departments as directed by Drafting Manager.
Maintain a good working relationship, with consistent communication, with the Drafting
Manager and Senior Detailers.
Serve as lead detailer on certain projects.
Check drawings at the discretion of the Drafting Manager.
Provide assistance to other detailers.
Assist in training of new detailers.
Resolve questionable areas relating to fabrication and erection with representatives of the individual department.
Work independently while adhering to company and drafting guidelines.
NON-ESSENTIAL FUNCTIONS, DUTIES & TASKS
Help Prepare As-Built drawings for final records.
Perform tasks as assigned by the Drafting Manager.
Help Senior Detailer organize all correspondence and keep contract folders up to date at all times.
SCHEDULE
Office Hours are 8:00 – 4:30 Monday through Friday, with half hour for lunch.
Must have ability to work overtime when asked by supervisor.
WORK CONDITIONS
This job requires the worker to be at a desk for most of the day working on a computer, and make site visits as required.