Employment Opportunity: Shop Paint Foreman (Pell City, AL)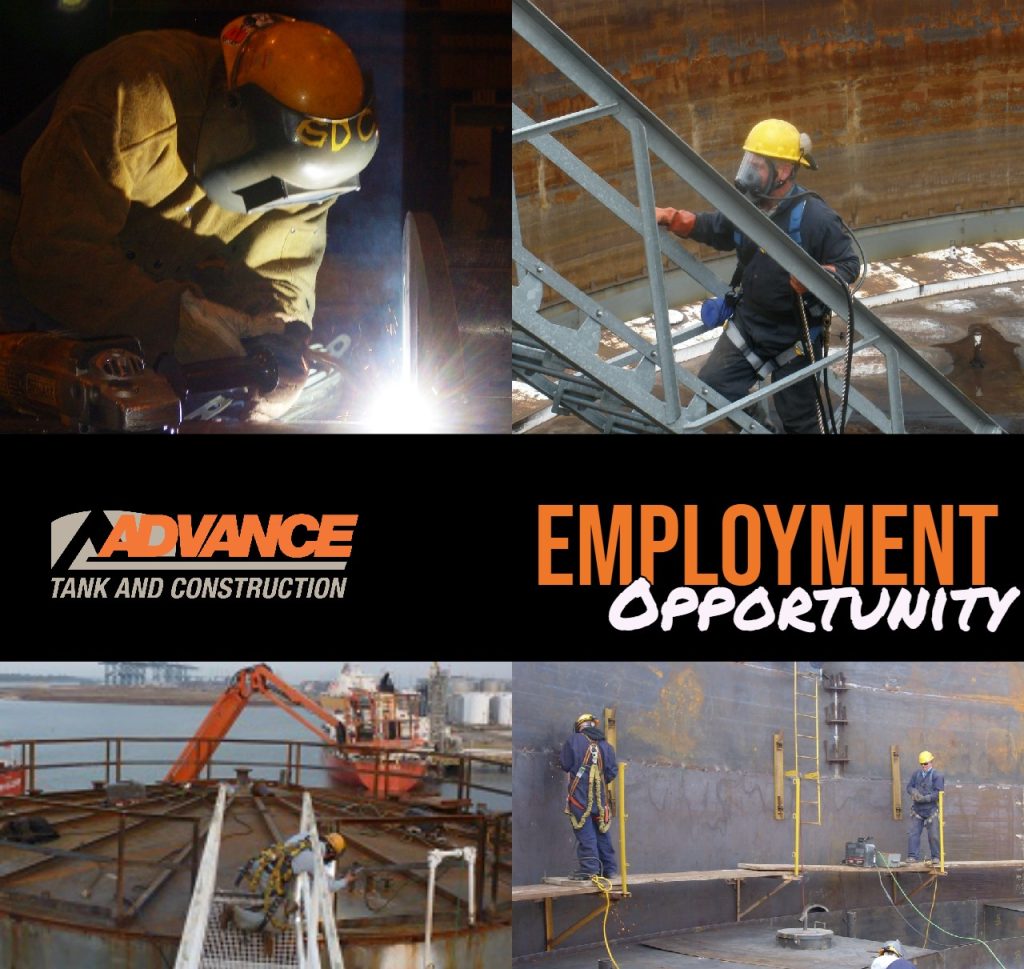 Advance Tank and Construction is a construction company that works throughout the continental United States. We build large capacity, steel erected, storage products from the ground up. We are looking for a Shop Paint Foreman in our Pell City, AL shop. We are interested in those who are experienced, hardworking, and know how to work safely.
PAY RANGE
$22.00 – 28.00 per hour
The pay range is dependent on the person's experience and capabilities. Benefits include: paid vacation, sick leave, 401k with company match, health and dental insurance. This is an employment at will position.
APPLY
Advance Tank is offering competitive wages, great benefits, and a family-like environment. If you feel your skills & abilities closely match the self-driven personality we are searching for, please send us your resume via email or apply online. We will only accept inquiries via email and online application. Please do not call our offices regarding employment opportunities.
Email: Attention: Recruiting jobs@advancetank.com
QUALIFICATIONS
Must be able to perform all duties safely.
Minimum 2 years of experience in industrial abrasive blasting and painting of steel plate, piping and various steel structures.
Experience directing the work activities of up to four blaster/painter laborers in a steel fabrication facility.
Ability to read and interpret industrial painting specifications, paint product data sheets and safety data sheets (SDS).
Experience in the use of abrasive blasting equipment, spray painting equipment, air compressors, paint pumps, painting filters, painting tools and painting inspection equipment.
Capable of performing the paperwork that is part of this supervisory position, including but not limited to, daily logs of blasting and painting activities, daily blasting and painting reports for submittal to customer, and hazardous waste inspection logs.
Ability to routinely lift up to 75 pounds.
Must be able to pass a post hire physical verifying ability to perform essential functions of the job, as well as a substance abuse test whenever required by Advance Tank or its customers.
Either hold current NACE Level I or be prepared to take and obtain the NACE certification training as required by the company.
ESSENTIAL FUNCTIONS, DUTIES & TASKS
Must be able to perform all duties safely.
When paint duties are low, the ability to stay busy with shop fabrication duties is an essential function.
This position involves tank labor work if painting duties are placed on production hold. Must be willing to work labor shifts to fill production as needed.
Manage and direct the activities of a shop blasting and painting operation.
Direct laborers to properly and safely abrasive blast steel plate and various steel structural shapes, piping and assemblies.
Mix and properly apply various industrial paints by airless spray, brush and roller application. Must be able instruct and direct laborers to properly and safely apply various paints per the project specifications.
Application of industrial epoxies, zincs, alkyds, acrylics and urethanes.
Use of blasting and painting inspection equipment including blast profile gauge, wet and dry film thickness gauges, temperature, humidity and dew point gauges., and prepare daily reports from the use of the inspection equipment.
Follow project painting specifications and be able to read and follow manufacturer's product data sheets and safety data sheets (SDS).
Operate and perform routine maintenance of air compressors, paint pumps, blast pots and painting filters.
Manage the upkeep and replenishment of painting supplies including paint and blasting abrasive.
Operate and maintain drills, power brushes, abrasive blasting equipment, paint spray equipment and painting tools.
Lift 50 to 75 pounds while carrying paint equipment, paint and related items.
Work aboveground at heights requiring ladders and scaffolds while wearing fall protection equipment.
Oversee the safe performance of your work and that of the laborers working underneath you.
NON-ESSENTIAL FUNCTIONS, DUTIES & TASKS
Reading shop drawings.
Assisting other leadmen and shop superintendent in required shop duties.
SCHEDULE
This position works 8 to 10 hours per day, 5 days per week; able to work overtime when necessary. Begin work promptly at designated time.
WORK CONDITIONS
Worker is on feet, kneeling or bending all day and work is done outside in all weather conditions. Worker will be required to wear a hardhat, safety glasses, and ear plugs at all times. Worker will be required to wear all required blasting and painting safety equipment as necessary including respirators, blasting hood, gloves, work boots and fall protection.